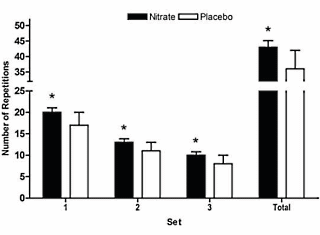 Bodybuilders maken twintig procent meer reps door rode bietensap
Rode bietensap is niet alleen een interessant supplement voor duursporters. Ook bodybuilders en andere krachtsporters kunnen intensiever trainen als ze aan hun dagelijkse voeding rode bietensap toevoegen, ontdekten onderzoekers van Edge Hill University in Engeland.
Rode bietensap
Rode bietensap is een natuurlijke bron voor anorganisch nitraat, en nitraat fungeert in het lichaam als een precursor van stikstofmonoxide. Stikstofmonoxide versoepelt de bloedvaten en vergroot de toevoer van zuurstof en voedingsstoffen naar de spieren.
Er zijn aanwijzingen dat stikstofmonoxide een rol speelt bij spiergroei – en dus hebben makers van bodybuildingsupplementen een keur van producten in de markt gezet die de concentratie stikstofmonoxide in het bloed moeten verhogen. Een overzicht van wat we over stikstofmonoxide & suppletie hebben geschreven vind je hier.
Studie
De onderzoekers lieten twaalf mannelijke studenten, die al geruime tijd aan krachttraining deden, gedurende zes dagen dagelijks een flesje Beet It SPORT shot opdrinken. Beet It SPORT shot is een product van sapfabrikant James White, [jameswhite.co.uk] en bevat 70 milliliter geconcentreerd rode bietensap en 400 milligram nitraat. James White betaalde niet mee aan de studie.
Bij een andere gelegenheid dronken de studenten bessensap – zonder nitraten.
Voor en na beide suppletieperioden moesten de proefpersonen drie sets to failure bankdrukken met 60 procent van het gewicht waarmee ze nog 1 rep konden maken. Tussen de sets rustten de studenten twee minuten.
Resultaten
De suppletie met het geconcentreerde rode bietensap verhoogde het totale aantal reps met twintig procent.
Conclusie
"Coaches and their athletes alike, could make use of nitrate supplementation since our evidence suggests it, can be used within healthy male resistance trained population to increase exercise tolerance and improve performance", schrijven de onderzoekers.
"Further studies are necessary to investigate long term use and possible adaptations to resistance training with longer periods of dosing with nitrate."
Bron: Ergogenics
Onze ambassadeurs bevelen de volgende producten aan