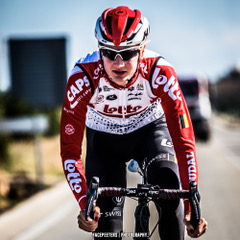 Kelly Van den Steen – Wetteren – 27 februari 2019
De Sporter leren kennen
Hoe ben je betrokken geraakt bij deze sport: ………?
Er zaten in de familie wel wat wielrenners en zo heb ik ook de smaak te pakken gekregen.
Wie was je grote voorbeeld (idool)……….?
Ik heb van kindsaf altijd opgekeken naar Marianne Vos, alleen al hoe ze de verschillende disciplines combineerde. Ik vind het dus zeker plezant om er in sommige wedstrijden samen  mee in de koers te rijden.
Beste prestaties ………..tot nu toe………..?
Mijn beste prestaties zijn tot nu nog toe mijn Belgische titel tijdrijden bij de jeugd en vorig seizoen hebben we met de ploeg ook het bk tijdrijden gewonnen. En ook trots dat ik al verschillende WK deelnames op de weg heb mogen rijden.
Wat zijn je ambities ……….?
Ik zou graag eens deelnemen aan de Giro Rosa voor vrouwen toch de meest prestigieuze rittenwedstrijd in het vrouwenwielrennen, en daar wil ik mij toch graag eens in de kijker rijden.
Wat motiveert je om harder te trainen ………..?
Het dameswielrennen is de laatste jaren in stijgende lijn en dit motiveert mij wel om er alles blijven voor te doen om aan de top te komen. Motivatie halen door mijn vooropgestelde doelen te bereiken en zelf mijn grenzen te verleggen.
Kun je uitleggen hoe je traint………… ?
Ik probeer de trainingen die mijn trainer opmaakt zo goed mogelijk uit te voeren. Het liefste train ik in de Ardennen of in Spanje, ik ben iemand die liever wat bergop rijdt. Ik luister wel steeds naar mijn lichaam, als ik me niet genoeg gerecupereerd voel of ik me wat ziek voel, zal ik het eerder rustiger aan doen, dan toch de volledige training af te werken en nadien slechter worden.
Als je een andere topsport moest kiezen, welke, en waarom………?
Dan misschien toch atletiek, omdat ik graag ga lopen ook. En het ook een afwisselende sport is.
Wat zijn je 3 sportvoedings tips………?
Af en toe jezelf iets lekkers gunnen en ervan genieten, wees realistisch voor jezelf en stel een goed plan op.
Hoe ben je bij Beet-it sport gekomen……?
Via social media en artikels. Uit onderzoek bleek het zeer positief te zijn in verdere prestaties
Waarom gebruik je Beet It Sport?
Omdat het zou helpen verbeterde prestaties te leveren. Alles in topsport is belangrijk, ook de voiding waaronder Beet-it behoord.
Onze ambassadeurs bevelen de volgende producten aan